"After more than a decade of coaching and volunteering my time for nearly 1,200 youth, it has become clear to me that many parents and spectators around youth sports fail to understand that some successful programs are trying to accomplish more than a philosophy of building professional athletes. For me, the first priority has been and remains, to mentor and foster good young men and women with team camaraderie, discipline, good work ethics, character on and off of a playing field, academic achievement and unwavering support from parents for their child and all children. Please join me, regardless of your youth program, in advocating and strengthening these basic ethics for our youth." -- Respectfully yours, Coach Steve Korbel

Updated February 28, 2021:
We have decided to relax this requirement in 2020-21 while many students are struggling with partial school days or many hours of remote learning. This is a school year to put extra time in on studying and school.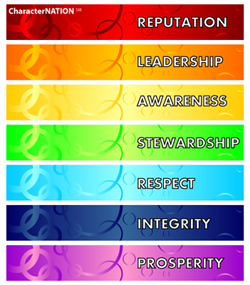 REPUTATION
A good reputation encompasses many realms of life, on and off the field of play.

LEADERSHIP
Success is directly linked to your decisions. Will you lead or will you follow? Either way, leaders make good decisions.

AWARENESS
Knowing the difference between 'right and wrong,' 'fair and unfair,' or 'proper and improper.'

STEWARDSHIP
Contribution of self by conducting, supervising, or managing something carefully that is entrusted to your care.

RESPECT
Acknowledging situations and surroundings that require an appreciation.

INTEGRITY
A foundation of genuine values and principles that you demonstrate in all aspects of your life.

PROSPERITY
The benefit of good character, reputation and leadership reaped by you and others as a result of your efforts.
No matter what you do in life, CharacterNATION™ says "High Strive to High Thrive"™ and be successful at what you choose!
Strive to become stronger at what you do so you can flourish!

Please click refresh/reload on your browser for our latest updates.



© Copyright 2008-2021 Lincoln-Way Prospects Travel Baseball and Steven J. Korbel. All Rights Reserved.
The Prospects P logo with the grizzly bear is a registered trademark of Steven J. Korbel. Registration #111239
BEYOND THE FIELD OF PLAY™ is an Illinois registered service mark of Steven J. Korbel. Registration #105772
Lincoln-Way Prospects™ is an Illinois registered service mark of Steven J. Korbel. Registration #099357
Prospects Baseball™ is an Illinois (Reg. #111238) and Indiana registered service mark of Steven J. Korbel.
Xposure Baseball™ is an Illinois registered service mark of Steven J. Korbel. Registration #111257
lwprospects.com™ is an Illinois registered service mark of Steven J. KorbelRegistration #111237
prospectsbaseball.com™ is an Illinois registered service mark of Steven J. KorbelRegistration #111236
xposurebaseball.com™ is an Illinois registered service mark of Steven J. KorbelRegistration #111328
Lincoln-Way Prospects Travel Baseball™ has an expressed written agreement to use said service marks in 2008-2021.
All other trademarks used herein are the property of their respective owner.
We do not own our own facility, this keeps operating costs down without long-term commitments. We lease and rent.
#SteveKorbel | #StevenKorbel | #StevenJKorbel | #prospectsbaseball | #xposurebaseball | #lwp | #lwprospects
We do not endorse any ad promo links. If your browser picks up key words, you must alter your browser/PC settings.
Licensed Material is used in our website. You are restricted on downloading the Licensed Material for other than personal use.
YOU ARE PROHIBITED from republishing, retransmitting, reproducing and any other use of the Licensed Material.

For more information, E-mail: Coach Steve Korbel