2018 TOY DRIVE
Comer Childrens Hospital
Sat., Dec. 1, 2018
Team Bus "Rudolph"
Departs Mokena 9:00 a.m.
---
9U Manager
Jim Scott
---
10U Black Manager
Dan O'Leary
---
10U Orange Manager
Scott Perme
---
11U American Manager
Glen Sloane
---
12U Black Manager
Jason O'Malley
---
12U Orange Manager
Dennis Sidler
---
13U Black Manager
Shane Higgins
---
13U Orange Manager
James Sokachitch
---
13U Americans Manager
Vince Neri
---
14U Black Manager
Matt Gruca
---
14U Orange Manager
Mike Cech
---
14U Americans Manager
Bob Stahulak
---
Xposure Managers Listed on Right-Hand Side
15U thru 17/18U
Lincoln-Way Prospects™ Travel Baseball 2017-18 Independent Instructors and Coaching Staff
In addition to our coaches, we also feature some of the best skill specific mentors and instructors in the area.
Experience. Knowledge. Professionalism. Dedication. Continued Education. Proven Credentials. Sustained Success.

For most it goes without being said, but unfortunately there are still people that simply don't comprehend the history of metro baseball, nor do they acquire accurate information. This is competitive youth baseball, not little league nor recreational athletics. As a result, with the investment a family makes in their child, financial and time, we agree with several other fine programs that you should have the information below, clearly showing you the experience and the proven credentials of the unpaid volunteers that you trust your child with. It's our courtesy and accountability to you. These instructors and coaches possess hundreds of milestones that reflect upon the wonderful growth, improvement and execution of the game by hundreds of children we've been privileged to teach. You sought the information from our link, here it is:
---


STEVE 'KORBS' KORBEL
University of Notre Dame
Lewis University
Founder, Administrator: Lincoln-Way Prospects™ Travel Baseball
Head Coach, Prospects Travel Baseball™
Head Coach, Prospects Xposure™ Baseball
Creator, Character Nation™
Presidential Lifetime Service Award Recipient


---

JIM HALL
Independent Instructor, Catching/Fielding/Hitting
Dual Hall of Fame Coach
National speaker and mentor
Coach, Team Illinois and USA Athletes International
Prospects Xposure™, college networking

---

ISAAC VALDEZ
Independent Instructor, Infield/Hitting/Outfield
Coach, Harper College
Prospects Xposure™, Mentor college networking

---

AUSTIN KORBEL
Independent Instructor, Infield
University of Illinois Urbana-Champaign


---

KYLIE KORBEL
Independent Clubhouse Coordinator
Independent Instructor, Strength & Conditioning
Golds Gym Certified Instructor
Illinois State University, Education

---

ANDY PASZKO
Independent Instructor, Hitting/Defense
Lead Instructor, Position-Specific 3rd Base
Former owner, Let It Rip
Former HS Varsity Hitting Coach, Lincoln-Way East

---

JIM GURGONE
15U Xposure™ Manager
Prospects' Baseball Member since 2013
Lead Instructor, Position-Specific 1st Base



Prospects Baseball was the first Illinois full-time travel baseball team to have a complete coaching staff fully N.Y.S.C.A. certified in coaching baseball. Our coaches voluntarily took this initiative under the direction of our organizations administrators, paying for it out-of-pocket as well. Congratulations and great job on your continued education as a coach.



---

CHRIS PACK
via Baseball Institute
Independent Instructor, Pitching
Villanova University
University of Illinois
Free agent contract - Florida Marlins
Owner Operator, Baseball Institute

---

ERIK LIS
via Baseball Institute
Independent Instructor, Hitting
University of Evansville
Former Minnesota Twins AAA
Baseball Institute Lead Hitting Instructor

---

COREY KIMES
via Baseball Institute
Independent Instructor, Pitching
University of Illinois Champaign-Urbana
Drafted Minnesota Twins
Baseball Institute

---

VINCE DAVIS
Independent Instructor, Pitching
Former Professional Player

---

MATT TROWBRIDGE
Independent Instructor, Pitching
Current Pro Player, Baltimore Orioles A


---

RON BIGA
via Baseball Institute
Independent Instructor, Baseball Institute
Manager & Dir. Operations, Windy City Thunderbolts
Managed professionally (Sioux City Explorers)
Managed professionally (Southern Illinois Miners)


---

MIKE ANGEL
via Baseball Institute
Independent Instructor, Catching/Hitting
Lead Instructor, Position-Specific Catching Camp

---

ZACK JONES
via Baseball Institute
Independent Instructor, Catching/Hitting
Three-time NCCAA All-American
Currently playing with Windy City Thunderbolts

---

TREY KORBEL
Independent Bullpen Coordinator
Independent Clubhouse Aid
Triton College


PUBLIC POLICY FOR VOLUNTEERS!
Lincoln-Way Prospects Travel Baseball is the first youth baseball organization in New Lenox, IL to publicly announce that it encourages and supports their administrators and coaching staff, including managers, to participate in any capacity, with any baseball club or organization whereas their contributions as a volunteer can foster the advancement of recreational or amateur sports.

Our organization believes families should have choice and quality options as parents not forced to make a choice with whom to coach because of out-dated or restrictive by-laws and policy. Without disrupting their travel team commitment, our staff may help children at any level, in any community without being forced to choose between which child to assist as a volunteer when developmental and instructional programs are offered by different clubs.

Athletes first, politics ousted.
TRUE, TRADITIONAL TRAVEL BASEBALL PROGRAM!
Beyond the field of play™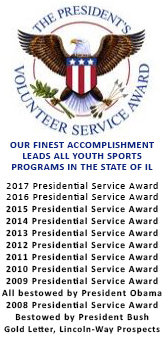 PROSPECTS XPOSURE
---
15U Xposure Navy Manager
Position-Specific 1B Instructor
Brian Styx
---
15U Xposure Red Manager
Position-Specific 1B Instructor
Mark Las
---
15U Xposure White Manager
Position-Specific 1B Instructor
Brad Bochenek
---
16U Xposure Manager
Position-Specific 1B Instructor
Jim Gurgone
---
17U Xposure Manager
Jack Bahnaman
---
17U/18U Navy Xposure Manager
Mike Cech
---
17U/18U Red Xposure Manager
Mike Husted