TEAM SNAP PAYMENT
2023-2024 Season
LOG UPDATED THRU 11/7/2023
---
2023-24 Sponsor Form
Download Here
---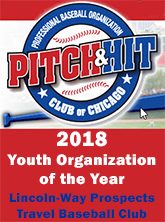 ---
Prospects Travel Baseball operates training and clinic programs, and also offers various age levels of competitive teams from A/AA/AAA through Major/Elite and High School. Xposure Baseball is for ages 15U and older.
---
ABOUT OUR BEAR CLAW!
Native Americans use symbols & designs to represent specific ideas or cultural expressions. The bear is a powerful guardian; physical strength & leadership! The bear symbolizes sweetness of life and introspection. The bear claw was used to summon the power of the animal. The bear tracks can signify strength and well being, leadership and authority.
---
Please click refresh/reload on your browser for our latest updated content!


*** LAST NOTICE ***
Added date for parents! Past due fees to-date and final org payment due 12/8/23 can be dropped off in-person
with Trey on Saturday, December 2nd at the FINAL make-up date fittings:
I-80 Athletics Clubhouse, Front Desk 9:30am to 1:30pm

FINAL CALL FOR CAP & JERSEY SIZING!
SATURDAY, DEC. 2ND AT I-80 CLUBHOUSE!
SEE TREY BETWEEN 9:30AM to 11:30PM
After 12/2, player items will be ordered when shipping is prepaid for the items.

FROM LWP ADMIN TO PARENTS!
We try to limit memos and we have sent numerous reminders to simply watch the website for updates. While you might be on top of it, many parents are not and have not completed the electronic docs, or communicated that they need assistance, which makes scheduling a team event very challenging. If you are NOT up-to-date with payments that have been spread out nicely, or both parents have not bothered to complete the electronic docs for a month, then this will have adverse effects for the team.
Our volunteer managers have to stay on their respective team.
We will not schedule a team that will have half of the team ineligible.

Team Snap messages have been specific, and hopefully helpful. We have worked hard to start populating a very early tourney schedule. We have arranged to get caps and jersey samples available for open house dates and a couple make-ups dates in early November for sizing. Coach Korbel has provided his personal e-mail and updated mobile number for anyone that has a question, needs a Square invoice, or needs their electronic doc reminder reissued! We cannot make it any easier.

October 1st and November 1st installments for all ages is $500.00. This should be arranged with your team manager or you can e-mail Coach Korbel if you prefer to mail a check. E-mail Coach Korbel

For 9U families, you should have a total of $1,525.00 turned by for October 1st to-date, and paid in full by the end of November.

For Coach Ruby's 18U team, you should have a total of $1,500.00 turned in for November 1st,
which included the commitment fee skipped by some families.

For the remaining teams, you should have $1,825.00 turned in to-date,
and that can include the commitment fee. $500 due November 1st.

For any installment, you should remit payment as check or money order,
payable ONLY to Prospects Travel Baseball and send to:
Steven Korbel
1442 Saint Andrews Drive
Schererville, IN 46375

If you prefer a Square Invoice that incures a 3.5% handling fee, you must coordinate that with Coach Korbel directly.
DO NOT VENMO OR ZELLE WITHOUR PRIOR PERMISSION! Text Steven Korbel at 219-388-8000 for details to Zelle.

SCAN QR code below for 2-minute interest form or go to
our 2024 Tryout Interest Link - Click Here

All tryouts are INDOORS and require a parent to fill out two waivers forms on-site at:
I-80 Athletics, 17650 Duvan Drive, Tinley Park, IL 60477

---
17/18U Private Tryouts available with Blain Ruby. Must reserve spot.
15U Prospects Xposure has room for 1 pitcher-only spot.
13U Roster Spot:1 slot available for catcher!

Thank you to more than 200 players for your 2024 interest!

We are accepting pre-planning with coaches that would like a 2025 team:
9U team, 12U team and two 15U Xposure teams.


---
You may contact our founder and Org Head Coach, Steve Korbel (Korbs) directly for a private tryout: 219-388-8000
---
ALL 15U-18U H.S. PROSPECTS' XPOSURE BASEBALL TEAMS OFFER PRIVATES
15U Prospects Xposure Manager: Bill Rossow, 708-299-3550
16U Prospects Xposure Baseball Trainer: Bob Gillund (Triton College), 708-935-6542

17/18U Prospects Xposure Manager: Contact Blain Ruby (Leading Instructor), 708-601-1709

---
CONGRATULATIONS TO 17/18U XPOSURE AND COACH RUBY!
PURDUE NORTHWEST 2023 CHAMPIONS (19+ teams)
TOP FOUR SEMI-FINAL (RAINED OUT)
CHAMPIONSHIP GAME RUNNER -UP NORTHERN ILLINOIS
TOP SIX FINISH UNIVERITY OF NOTRE DAME
---
CONGRATULATIONS TO OUR 15U FRESHMAN XPOSURE!
GAMEDAY USA AURORA CHAMPIONS
BOMB SQUAD MICHIGAN CITY RUNNER-UP!

---
CONGRATULATIONS TO OUR YOUTH CHAMPIONS!
9U AMERICAN MULTIPLE RINGS
11U AMERICAN AND 11U NATIONAL MULTIPLE FINALS
13U GAMEDAY USA CHAMPIONS
---

---
FUN, PLENTIFUL TRAINING SLOTS FOR 2024 PROSPECTS BASEBALL
* 2024 PROSPECTS BASEBALL WITH LIMITED ORGANIZATIONAL FUND-RAISING PLANS!
* We have a new flat Club Activity Fee and Membership Fee to limited org-based fundraising.
* Our individual teams are permitted to fund-raise to benefit their extra team needs. Prior approval from LWP Admin required to fund-raise.
* Local training, multiple venues expected!
(Convenient Tinley Park facility near I-80, Centennial Park, John Humphrey Park, LW Central
* Spacious, open space training facility, larger cages, unobtructed infield area, and pitching tunnel.
* 2024 Limited hotel tournament travel and numerous turf field opportunities. Team added trips at team level.
* Limited home games unless team opts to add. Tournament-based options for spring and summer schedules.
* NEW Membership Fee for most 9U rostered players! 2024 11U and 14U Manager requests being accepted.
* Note: Most teams will vary and coordinate with Coach Korbs. Prospects Xposure and Prospects 10U-14U teams are under completely different formats.
---
PROSPECTS' USE DROPBOX SIGN FOR eSIGNATURES FOR AGREEMENTS AND WAIVERS FOR ROSTERED PLAYERS
After tryouts, both parents are required to execute the eSignature agreements before your son can partake in any Prospects' event.
Mom and Dad need to have their correct name and individual e-mail in Team Snap.
2023-24 Commitment Fees should have been $600.00 to Prospects Travel Baseball, except 9U which was permitted to be $300.00.
2023-24 Team Snap data was due in August 31, 2023. $500 second payments and $225 activity fees are due September 1, 2023.
2023-24 3rd payments will be due in October 1, 2023. 2023 4th payments will be due November 1, 2023.
2023-24 final organization balances are due December 8, 2023. 2023-24 fees increases will be reflected in Team Snap, as discussed during tryouts.
We posted an announcement that DocuSign e-mails are delayed due to non-compliance by some teams still needing both parents
entered in Team Snap with unique e-mail addresses.
---
2023-24 MANAGER AND TEAM CHECKLIST:
1) All Dropbox Sign generated agreements and waivers must be completed by both parents to do any training of any kind. This is a parental responsibility, not LWP.
2) For 2023-2024 season, fee balances are broken out for installments through 12/8/2023 to help our parents. If not compliant with the payment schedule, do not send your son to any LWP events.
3) Commitment Fee checks should only be written to Prospects Travel Baseball, not Xposure or a personal name. These are non-refundable.

---
PAPERWORK FOR DOCUSIGN AGREEMENTS AND WAIVERS ARE REQUIRED PRIOR TO ANY PARTICIPATION
You should not send your son to participate in any event without the electronic document ID confirmation that all paperwork has been signed and submitted properly. It sent to you after both parents complete the electronic signatures. This includes the General Liability Waiver, and the Covid Waiver made part of the Parent Agreement sent by DocuSign e-mailed to both parents as populated in Team Snap. If not, you are at-will and solely responsible as the parent if non-compliant, and your son still cannot participate without said documents signed.
---
2024 TRYOUTS:
Early Bird starts in June!
---
UPDATED:
Mandatory Items Not Provided in our Membership Fee.
Personal Equipment Bag
Protective Cup
Hydrating Beverage
Batting Gloves
Hand-sanitizer
Personal catcher's gear
Personal batting helmet
Any CDC required items
Any guideline items Recommended Items
Mouthpiece
HeartGuard
Headgear Cap Inserts
CDC recommended items
---
Nothing herein shall be construed as an offer nor acceptance and the Parent Agreement disclaimers prevail.
© Copyright 2008-2023 Lincoln-Way Prospects Travel Baseball and Steven J. Korbel. All Rights Reserved.
The Prospects P logo with the grizzly bear is a registered trademark of Steven J. Korbel. Registration #111239
BEYOND THE FIELD OF PLAY is an Illinois registered service mark of Steven J. Korbel. Registration #105772
Lincoln-Way Prospects is an Illinois registered service mark of Steven J. Korbel. Registration #099357
Prospects Baseball is an Illinois (Reg. #111238) and Indiana registered service mark of Steven J. Korbel.
Xposure Baseball is an Illinois registered service mark of Steven J. Korbel. Registration #111257
lwprospects.com is an Illinois registered service mark of Steven J. KorbelRegistration #111237
prospectsbaseball.com is an Illinois registered service mark of Steven J. KorbelRegistration #111236
xposurebaseball.com is an Illinois registered service mark of Steven J. KorbelRegistration #111328
Lincoln-Way Prospects Travel Baseball has an expressed written agreement to use said service marks in 2008-2023.
All other trademarks used herein are the property of their respective owner.
We do not own our own facility, this keeps operating costs down without long-term commitments. We lease and rent.
We do not endorse any ad promo links. If your browser picks up key words, you must alter your browser/PC settings.

Licensed Material is used in our website. You are restricted on downloading the Licensed Material for other than personal use.
YOU ARE PROHIBITED from republishing, retransmitting, reproducing and any other use of the Licensed Material.

This was posted in June 2009, revised June 10, 2022, revised May 22, 2023 and revised June 24, 2023. Line #1 disclosure also added in 2021 but addressed in the Parent Agreement.
For more information, e-mail: Coach Steve Korbel