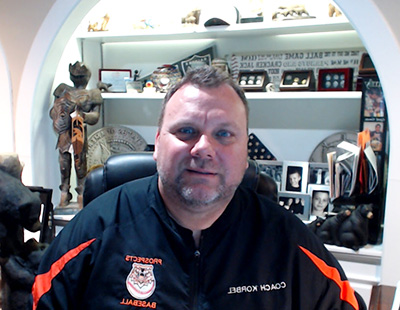 Coach Korbel and the Prospects amongst first to act swiftly on public gatherings. Coach Korbel has held nine video conferences and released three additional training videos. This will continue as needed.
---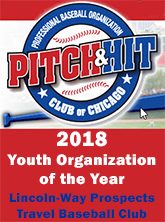 ---
---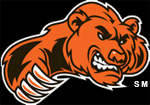 ABOUT OUR BEAR CLAW!
Native Americans use symbols & designs to represent specific ideas or cultural expressions. The bear is a powerful guardian; physical strength & leadership! The bear symbolizes sweetness of life and introspection. The bear claw was used to summon the power of the animal. The bear tracks can signify strength and well being, leadership and authority.
---
Please click refresh/reload on your browser for our latest updated content!

---
BEST VALUE IN TRAINING, LEADERSHIP AND TRAVEL BASEBALL IN SOUTH SUBURBS!
SAVE MONEY. SAVE TIME. PROVEN SMART, TRADITIONAL BASEBALL PHILOSOPHY!
---
2021 TRYOUTS WINDING DOWN. PRIVATE TRYOUT REQUESTS ALLOWED!
CLICK HERE TO COMPLETE 2-MINUTE 2021 TRYOUT INTEREST FORM FOR 9U TO 18U!
---
FUN, BIG TIME CHANGES FOR THE 2021 PROSPECTS BASEBALL
2021 PROSPECTS BASEBALL FEATURES NO ORGANIZATIONAL FUND-RAISING PLANS!
* Local training, multiple venues! (Bo Dome, Mokena Quarry, SportsPlex, Centennial Park, LW Central)
* Spacious, high ceiling, open space 13,000SF training facility and clubhouse with six 70-ft cages and custom mounds!
* 2021 Limited Hotel tournament travel and numerous turf field opportunities
* NEW, Lower Membership Fee for most 9U to 14U rostered players, with new Prospects Smart A LA CARTE program!

---
*** 2021 TRYOUT AGE, DATE AND LOCATION! ***
Check website if poor weather for movement to our indoor clubhouse in Mokena, if needed.
Players only need to attend ONE but are welcome to attend all sessions!
---
CHECK-IN WITH FOR PARENT SIGNED WAIVER AND PLAYER DATA FORM 30-MINUTES BEFORE START TIME!
---
Tuesday, July 14th:
Mokena Quarry Fieldhouse, 8685 Springlake Drive, Mokena, IL 60448
13,000SF Facility with large 70' cages and training turf, high doors open if good weather.
Final Tryout Chance for:
12U, 13U: 7:30PM-9:30PM
12U teams have Cooperstown Dreams Park grandfather certificates, if elected.

---
Tuesday, July 14th:
Schussler Park - North Field, 14609 Poplar Rd, Orland Park, IL 60462
Final Tryout Chance for:
16U, 17U Xposure: North Field, 6:00 - 8:00PM

---
* Many multi-team age levels! 3 teams at 14U, 2 teams at 15U Xposure, 2-3 teams at 16U Xposure, 2 teams at 17U Xposure!
---
PROSPECTS BASEBALL INVESTS HEAVY INTO GENERAL SAFETY GUIDELINES
Our organization has ordered optional and precautionary items for all teams, including back-up hand-sanitizer for discretional usage and digital thermometers
for touch free forehead or use with disposable ear cones. A small supply of dispoable masks will be available, subject to manager transport,
in case a player forgets his required PPE. No PPE equals no play.
---
UPDATED: TREY HAS RELEASED ANOTHER VIDEO FOR PLAYERS AND COACHES
We're sharing some information with ALL players, pitchers or not, from Trey Korbel, an Xposure alumn that pitches for Triton College.
---
UPDATED: COACH KORBEL AND PROSPECTS RELEASED 10 AT-HOME VIDEOS FOR PLAYERS
We have sent e-mails to all parents and players 8U to 14U.
Prospects Xposure players may ask for it by request after eligibility resumes.
This is for the Wednesday, Thursday and Friday online training assignments.

This should be completed prior to the LIVE video webinars with Coach Korbel each week!

---
MANDATORY COACHES N.Y.S.C.A. CERTIFICATION IS REQUIRED BY ALL VOLUNTEERS OR YOU'RE AT-WILL
If this wasn't completed and turned in, you should not be coaching or helping in any capacity.
All coaches and adults assisting kids must be N.Y.S.C.A., $20 1-year or multi-year discounts with many perks!
Copy of your MBR card required.
Link to NYSCA Coaches Online Clinic
Click 'Get Started' at the link above.

Note, in Step 3, type in 'Character Nation' and choose "Character Nation (Lincoln Way Prospects) are the organization.
This is a very easy process. You must link to Character Nation or you will not show up in my report.
I recommend that you get the $35 two-year membership.

Note: This is also a NAYS Select Coach Advanced Training option with huge Membership Benefits.
New for 2019, Prospects Baseball will reimburse any coach $10 of your first year if you choose to be a NAYS Select Coach!
Link to Select Coach Clinic here and follow same instructions.

If you just need to renew your NYSCA membership, use this link: RENEW HERE

TRUE, TRADITIONAL TRAVEL BASEBALL PROGRAM!
Beyond the field of play
---

---
UPDATED:
Mandatory Items
Team Issued Equipment Bag
Team Issued Attire
Protective Cup
Hydrating Beverage
Batting Glovers
Hand-sanitizer
Personal catchers mask
Protective mask (bench/post-game) Recommended Items
Mouthpiece
HeartGuard
Headgear Cap Inserts
---
© Copyright 2008-2020 Lincoln-Way Prospects Travel Baseball and Steven J. Korbel. All Rights Reserved.
The Prospects P logo with the grizzly bear is a registered trademark of Steven J. Korbel. Registration #111239
BEYOND THE FIELD OF PLAY is an Illinois registered service mark of Steven J. Korbel. Registration #105772
Lincoln-Way Prospects is an Illinois registered service mark of Steven J. Korbel. Registration #099357
Prospects Baseball is an Illinois (Reg. #111238) and Indiana registered service mark of Steven J. Korbel.
Xposure Baseball is an Illinois registered service mark of Steven J. Korbel. Registration #111257
lwprospects.com is an Illinois registered service mark of Steven J. KorbelRegistration #111237
prospectsbaseball.com is an Illinois registered service mark of Steven J. KorbelRegistration #111236
xposurebaseball.com is an Illinois registered service mark of Steven J. KorbelRegistration #111328
Lincoln-Way Prospects Travel Baseball has an expressed written agreement to use said service marks in 2008-2020.
All other trademarks used herein are the property of their respective owner.
We do not own our own facility, this keeps operating costs down without long-term commitments. We lease and rent.
We do not endorse any ad promo links. If your browser picks up key words, you must alter your browser/PC settings.
Licensed Material is used in our website. You are restricted on downloading the Licensed Material for other than personal use.
YOU ARE PROHIBITED from republishing, retransmitting, reproducing and any other use of the Licensed Material.

This was posted in June 2009 and revised on June 30, 2020:
For more information, e-mail: Coach Steve Korbel