---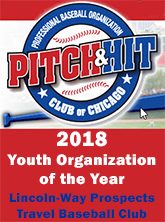 ---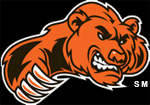 ABOUT OUR BEAR CLAW!
Native Americans use symbols & designs to represent specific ideas or cultural expressions. The bear is a powerful guardian; physical strength & leadership! The bear symbolizes sweetness of life and introspection. The bear claw was used to summon the power of the animal. The bear tracks can signify strength and well being, leadership and authority.
---
Please click refresh/reload on your browser for our latest updated content!

---
CATCHER CLINICS WITH BOB GILLUND ADDED FOR MARCH SUNDAYS!
Coach Korbel wanted to add even more dates for catchers. Here you go! (Optional, of course.)
Coaches should have been attending clinics, whether November or Now!
I-80 Facility (Tinley Park):
Sun., March 14th, 21st, 28th: 9:30AM-10:55AM: 9U, 10U, 11U
Sun., March 14th, 21st, 28th: 11:00AM-12:25AM: 12U, 13U, 14U
Sun., March 14th, 21st, 28th: 12:30PM-2:00PM: XPOSURE ALL AGES

---
ADDITIONAL OUTFIELD CLINIC FOR XPOSURE PLAYERS (Optional, of course.)
Bobby Gillund will run reps at the BO DOME MULTI-PURPOSE FIELD
Bo Dome Multi-Purpose Field
Mon., March 22nd: 8:30PM-10:00PM: Xposure Only
---
ADDITIONAL OUTFIELDER ONLY CLINIC FOR YOUNGER PROSPECTS
Bobby Gillund will run reps at the BO DOME MULTI-PURPOSE FIELD. Coaches should attend!
Bo Dome Multi-Purpose Field
Sat., April 3rd: 6:00PM-8:00PM: 9U/10U/11U/12U
---
LWP will begin rescheduling HitTrax Gaming Module nights in a couple weeks for some younger teams!


---
UNIFORM DISTRIBUTION FYI TO PARENTS:
Uniforms are partially arriving and please understand a player will not receive a uniform with balances due.
This was due is early December and we have been as flexible as possible through February.
---
SAVINGS CLARITY FOR OUR DEDICATED PARENTS:
Teams that are eligible to continue training will see that Coach Korbel has extended
major facility training opportunities through May and June! Some managers are working on choosing dates.

This is because LWP has been diligent with our vendors.
This should be nearly $1,800.00 a la carte per team, by Agreement, but Coach Korbel is NOT going to impose that in 2020-21.
Many parents cannot afford to add extra perks and we want the boys to participate. We hope it helps.

To those that communicate well and follow the rules, thank you and it is a token of our appreciation.

We hope the teams take advantage of the added training slots with reduced game play and increased training. This is at the manager's discretion because our coaches are volunteers like so many tens of thousands of parents. We will also try to add some slots for Xposure teams once cleared from ISHA rules. No a la carte fee and we are happyh to help the boys into Mayh and June, as possible.
---
MANAGER AND TEAM CHECKLIST:
1) All agreements and waivers past due must be submitted to resume training of any kind.
2) Fees balances as shown on "Classic Payments" in your Team Snap are due 12/13/2020 per agreement.
3) Checks should only be written to Prospects Travel Baseball, not Xposure or a personal name.

---
Local. Easy. Better Access. Fixed hours.
AWESOMENESS!
Over 14,000 square feet dedicated to baseball training!
Larger, Unobstructed Turf Infield
Newer cages, hitting mats and L-screens
Four updated bathrooms, 2 with ADA access
Climate Controlled 62-65 degree winter sessions!
Private, ENCLOSED clubhouse/classroom area
Increased flexibility for secure areas for LWP training equipment
Comcast High-Speed Internet for private use and HitTrax gaming cloud efficiency
4th memo to help some people: HS players will have up to two evaluation dates with HitTrax at no additional fee.
Note: We will NOT make-up your assigned evaluation time. Thank difficult people that don't pay attention.
3rd memo to help some people: 14U and Under teams have small fees for HitTrax Gaming Modules nights. It's optional.
Access to expanded instructor base for hitting, pitching and skill sets. Optional fee negotiated with instructor.
Tinley Park with convenient routes from LaGrange, Harlem, 191st, 175th, 159th, I-80, I-355, I-57 and 294S!
Extended training hour options and days!
Updated FYI: LWP will has added facility slots thru June at NO a la carte fee for qualified teams!
To those that understand and appreciate that significance, you're welcome.
Holiday, No School Day, Rain Day flexible LWP slots!
---
PROSPECTS "CP" RULE - short for "Carefully Pay Attention"
This has been posted below since last fall. It helps to understand the words annual, optional and mandated. It's harsh because we have some parents that are not helpful. For most Xposure teams, you have not been assessed mandated fees and received reduced fund-raising fees, as agreed. We did not mandate this fee because we prefer to offer two free, short assessments for Xposure teams on assigned dates, and assigned dates only.
Also stated on webinars.
Also stated at the facility during 16 sizing dates. Most would agree that is fabulous and we stated we would try for March.
If a player is still with the organization, we will allow a follow-up later in 2021 for assessment #2. It is not guaranteed.
The gaming mode nights are for 14U and Under but team building nights for Xposure are $10 per player to conduct this. 15U White is the only team that requested this.
---
PAPERWORK FOR AGREEMENTS AND WAIVERS ARE REQUIRED PRIOR TO ANY PARTICIPATION
You should not send your son to participate in any event without confirmation that all paperwork has been submitted properly. This includes the General Liability Waiver, and the Covid Waiver attested by the manager or notary public. If not, you are at-will and solely responsible as the parent and your son cannot participate without said documents.
---
PROSPECTS BASEBALL PURCHASED TWO HITTRAX SYSTEMS FOR 2021
Prospects Baseball owns a touchscreen and laptop version of the professional HitTrax system, which is a game-changer for player assessment with hitting,
pitching and catching. It will allow for annual player bio's and optional Gaming Mode Competition Nights.
LWP will have low activity and HitTrax mandated fees for 2021
in lieu of fund-raising and in lieu of the Griz Gala. For 2021, we want to eliminate players or parents selling tickets.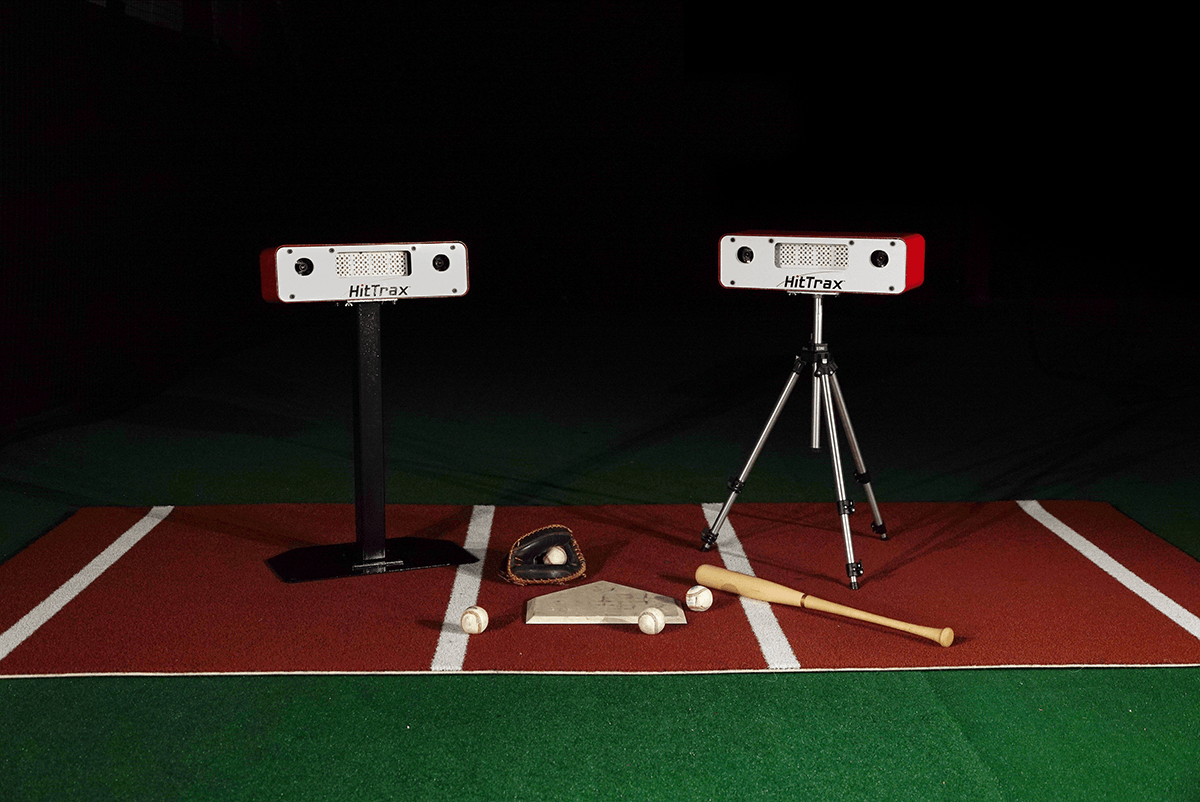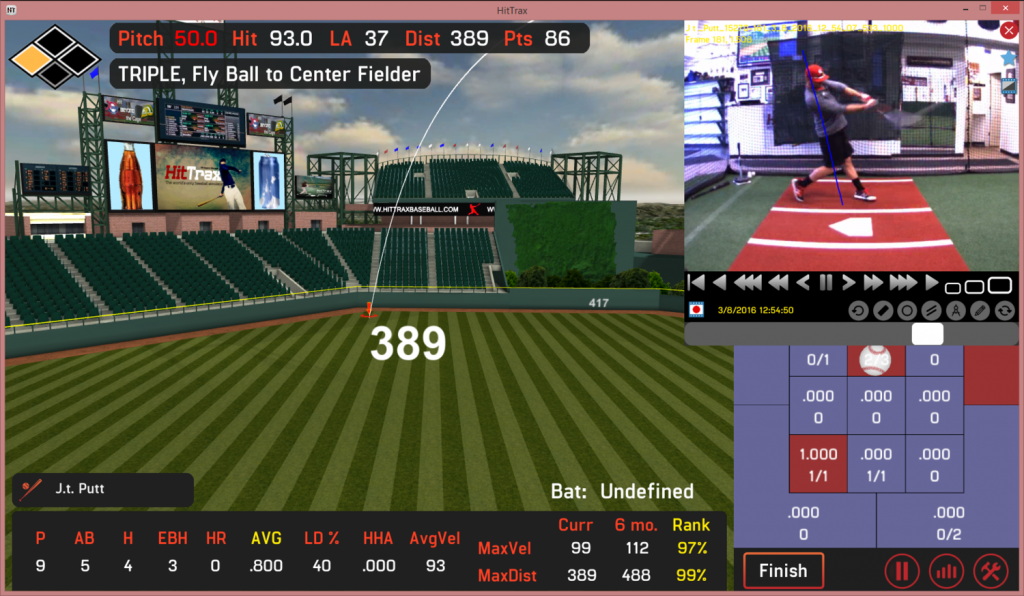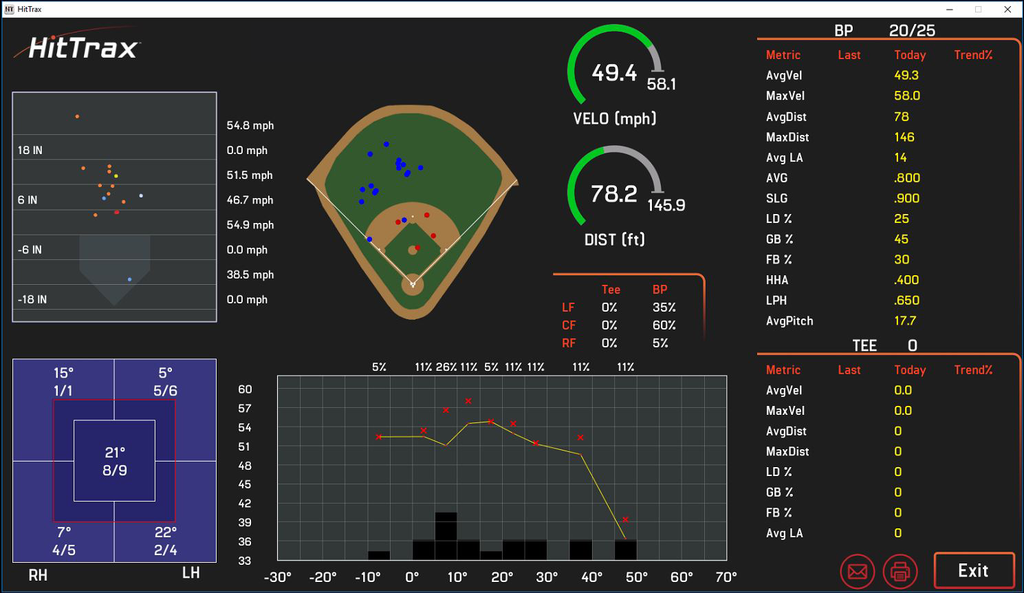 ---
PROSPECTS BASEBALL ACQUIRES ADDITONAL SLUGMASTER HITTING STATIONS!
Our organization now owns three Slugmaster Dual Hitting stations. Managers that complete the video training may have access to the stations in 2021.
We updated teams or parents that asked while at the facility. We are requesting replacement wheels on two units but with fluctuating hitting slots, we are allowing teams with a coach that watched the video to use one of the machines. Many coaches prefer tee work, flips, or live pitching. Players that need more, should have other training in place or private instruction and not solely rely on our team training. By the way, a Slugmaster station is simple a stationary hitting mount that doesn't allow the ball to travel; thus it is NOT used for most players but we stated we have them. Most coaches understand what that means. Those that don't, should ask.
---
We updated this on the webinar but posted an update for February 28, 2021:
PROSPECTS BASEBALL NOW OWNS ALL RIGHTS AND PROGRAMS OF CHARACTER NATION
Our organization now owns our leadership and character program and allows us to deliver some of the programming at no additional fee to our parents.
There is no fee for this so due to Covid, we have decided to limit sit down and classroom time in 2021 and not have managers review this with coaches or players. Time permitting, a webinar session might be offered. There is nothing set at this time.
---
2021 PRIVATE TRYOUT REQUESTS FOR 14U/15U/16U XPOSURE SQUADS!
CLICK HERE TO COMPLETE 2-MINUTE 2021 TRYOUT REQUEST
---
FUN, BIG TIME CHANGES FOR THE 2021 PROSPECTS BASEBALL
2021 PROSPECTS BASEBALL FEATURES NO ORGANIZATIONAL FUND-RAISING PLANS!
* Local training, multiple venues!
(Bo Jackson Elite Sports Dome, NEW Tinley Park facility (pending), Centennial Park, John Humphrey, LW Central (pending District rules)
* Spacious, open space training facility, larger cages, unobtructed infield area, mound access and HitTrax!
* Here's another great spot to reiterate what we stated on how we will use HitTrax as an assessment aid or gaming module.
* 2021 Limited Hotel tournament travel and numerous turf field opportunities
* Limited home games unless team opts to add. Tournament-based options for spring and summer schedules.
* NEW, Lower Membership Fee for most 9U to 14U rostered players, with new Prospects Smart A LA CARTE program!
* Note: Pretty clear 16U Xposure or Xposure is not listed above.
LWP reserves the right to help reduce expected a la carte fees with higher membership fees for new facility and training investments.
Much of this fluctuates since July due to unforeseen circumstances and issues due to a crazy 2020. Rest assured, we're working hard every day!
---
MANDATORY COACHES N.Y.S.C.A. CERTIFICATION IS REQUIRED BY ALL VOLUNTEERS OR YOU'RE AT-WILL
If this hasnot completed and turned in, you should not be coaching or helping in any capacity.
All coaches and adults assisting kids must be N.Y.S.C.A., $20 1-year or multi-year discounts with many perks!
Copy of your MBR card required.
Link to NYSCA Coaches Online Clinic
Click 'Get Started' at the link above.

Note, in Step 3, type in 'Character Nation' and choose "Character Nation (Lincoln Way Prospects) are the organization.
This is a very easy process. You must link to Character Nation or you will not show up in my report.
I recommend that you get the $35 two-year membership.

Note: This is also a NAYS Select Coach Advanced Training option with huge Membership Benefits.
New for 2019, Prospects Baseball will reimburse any coach $10 of your first year if you choose to be a NAYS Select Coach!
Link to Select Coach Clinic here and follow same instructions.

If you just need to renew your NYSCA membership, use this link: RENEW HERE

TRUE, TRADITIONAL TRAVEL BASEBALL PROGRAM!
Beyond the field of play
---

---
UPDATED:
Mandatory Items
Personal Equipment Bag
Team Issued Attire
Protective Cup
Hydrating Beverage
Batting Glovers
Hand-sanitizer
Personal catchers mask
Any CDC required items
Any guideline items Recommended Items
Mouthpiece
HeartGuard
Headgear Cap Inserts
CDC recommended items
---
Nothing herein shall be construed as an offer nor acceptance and the Parent Agreement disclaimers prevail.
© Copyright 2008-2021 Lincoln-Way Prospects Travel Baseball and Steven J. Korbel. All Rights Reserved.
The Prospects P logo with the grizzly bear is a registered trademark of Steven J. Korbel. Registration #111239
BEYOND THE FIELD OF PLAY is an Illinois registered service mark of Steven J. Korbel. Registration #105772
Lincoln-Way Prospects is an Illinois registered service mark of Steven J. Korbel. Registration #099357
Prospects Baseball is an Illinois (Reg. #111238) and Indiana registered service mark of Steven J. Korbel.
Xposure Baseball is an Illinois registered service mark of Steven J. Korbel. Registration #111257
lwprospects.com is an Illinois registered service mark of Steven J. KorbelRegistration #111237
prospectsbaseball.com is an Illinois registered service mark of Steven J. KorbelRegistration #111236
xposurebaseball.com is an Illinois registered service mark of Steven J. KorbelRegistration #111328
Lincoln-Way Prospects Travel Baseball has an expressed written agreement to use said service marks in 2008-2020.
All other trademarks used herein are the property of their respective owner.
We do not own our own facility, this keeps operating costs down without long-term commitments. We lease and rent.
We do not endorse any ad promo links. If your browser picks up key words, you must alter your browser/PC settings.

Licensed Material is used in our website. You are restricted on downloading the Licensed Material for other than personal use.
YOU ARE PROHIBITED from republishing, retransmitting, reproducing and any other use of the Licensed Material.

This was posted in June 2009 and revised on September 29, 2020. Line #1 disclosure also added in 2021 but addressed in the Parent Agreement.
For more information, e-mail: Coach Steve Korbel