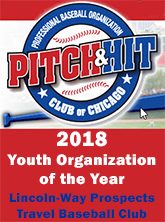 ---
XPOSURE LONG TOSS
led by Coach Gurgone
LW Central Fieldhouse
1801 E. Lincoln Hwy
Sunday's, 1/5/20 to 2/16/20
No Super Bowl Sunday 2/2/20
15U: 2:00-3:00pm
16U: 3:00-4:00pm
17U as assigned by Coach Jim!
---
Tech Raffle
Live Drawing Conducted
11/17/2019
THANK YOU TO ALL!
Grand Prize:
iPad Air 10.5"
#4864 Lesak

2nd Prize:
43" Smart HD TV
#1777 Derus

3rd Prize:
Echo Show & Blink XT2
#2477 Wickert

4th Prize:
RCA Tablet
#0124 Harts
Call 708-209-9399 by 11/20/19

5th Prize:
Amazon Cloud Cam
#5740 Sidler

6th Prize:
Fire TV Cube
#5406 Orlovich
Call 708-209-9399 by 11/30/19

7th Prize:
Google Smart TV Kit
#4516 Anganos

8th Prize:
Chromecast Ultra
#4316 Doggett

9th Prize:
PNy 64GN Duo Link
#4836 Higgins

10th Prize:
Firestick w/Alexa
#4068 Marth

11th Prize
Google Mini
#1969 N. Worobey

12th Prize
Google Mini
#5255 Pagnusat

13th Prize:
Echo Dot
#1782 Oshea

14th Prize:
Echo Dot
#2699 Bsiowik

15th Prize
Echo Dot
#4604 Ward

16th Prize:
Echo Dot
#2780 Borden

17th Prize:
$25 iTunes Gift Card
#4512 Boozer

18th Prize
Echo Input
#2950 H. Cichon

19th Prize
Echo Input
#0663 Crowhurst

20th Prize:
Chromecast Audio
#5212 Bartczak


---
2019 Christmas Break
12/23/2019 thru 1/4/2020
Watch website for venue updates!
---
PROSPECTS LONG TOSS
led by Matt Trowbridge
LW Central Fieldhouse
1801 E. Lincoln Hwy
Sunday's, 3/1/20 - 3/29/20
13U: 2:00-3:00pm
12U/14U: 3:00-4:00pm

---
2019 College Camp
(Xposure players)
We are not conducting a Fall showcase as some schools cannot travel off campus.

We recommend high profile showcases, clinics and camps like PBR and camps hosted by colleges you would like to attend.

Showcases are at your discretion and expense.
---
TRUE, TRADITIONAL TRAVEL BASEBALL PROGRAM!
Beyond the field of play™



---
ON DECK BILLBOARD

---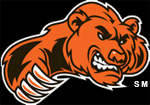 ABOUT OUR BEAR CLAW!
Native Americans use symbols & designs to represent specific ideas or cultural expressions. The bear is a powerful guardian; physical strength & leadership! The bear symbolizes sweetness of life and introspection. The bear claw was used to summon the power of the animal. The bear tracks can signify strength and well being, leadership and authority.
---
Please click refresh/reload on your browser for our latest updated content!

---
MAJOR REMINDERS FOR THIS WEEK!
Q. Why do we post updates constantly? A. Because we have people that don't comply with deadlines and it kills our plans.

#1 = TOY DRIVE!
Thank you for everyone that helped us donate to Comers Children's Hospital, especially the Rodrigues family sho donated nearly 450 gifts! A special thank you to players Zach Rodrigues, Ethan Godlewski, Leo Schaffer and Scott Sokachitch for making the excursion.

#2 = SCHEDULING!
We award extra practice sessions on a need basis, and sometimes due to other team cancellations or instructor changes, it forces Coach Korbs to make a last minute decision.
These are BONUS sessions during November and December, treated very differently than January to March.
If you do not understand, ask. If you do not attend meetings, then do not complain and simply ask!
We are a well-oiled machine but if you have misunderstoods you need to simply ask Korbs.
He's the most accessible person in travel baseball and has been in the clubhouse
15+ hours per week. Mobile is 708-209-9399. Happy to help!

#3 FEES AND DOCS!
All fee balances are due by 12/22/19 and some of you haven't even followed the agreement requirement. We have teams that have not turned in complete basket donations at $15 per player, or the $99 flat fund-raising fee. These are needed THIS WEEK! Please bring your fees current, you should have cancelled checks to know your total. If not, see Korbs. We cannot enter early bird tournaments for your team until this is handled. Thank you.

#4 CHECKS!
You should always ONLY write a check to Prospects Travel Baseball or Lincoln-Way Prospects. You should only mail a check to Coach Korbel but it should be dropped off at the clubhouse. You cannot issue checks to personal names, mail to non-LWP addresses or write to Xposure. It is as stated above, in the agreement and reviewed at the parent meeting!
---
TEAMS NEED TO MEET DUE DATES FOR ALL PLAYERS TO PREVENT SCHEDULING DELAYS!
It is unacceptable to have some teams without 100% agreement submission, basket donations, fund-raising flat fees paid and membership fees up-to-date. LWP delivers what we said, and we expect the same in return to keep operating smoothly.

PAST DUE MEMO! Things were due on Tuesday, November 26th at the clubhouse in Mokena! If you failed to do this, please drop off on Thursday, December 5th or Saturday, December 7th.
---
FIELDING with Eric Peca
Bring your glove, a baseball, turf or gym shoes in baseball attire!
Bo Jackson Dome - Multi-Purpose Field (17130 Prime Blvd., Lockport, IL 60441)
15U Red and 10U: Tue., 12/17: 6:00PM - 7:15PM
13U National/Black: Tue., 12/17: 7:15PM - 8:30PM
Coaches should be on-hand with baseballs and fungo!
---
UPDATED! LONG-TOSS INTRO TO BASICS with Matt Trowbridge (Former Orioles' High A)
ALL 15U & 16U XPOSURE TEAMS - bring your glove, a baseball, turf or gym shoes in baseball attire!
Bo Jackson Dome - Multi-Purpose Field (17130 Prime Blvd., Lockport, IL 60441)
16U-X: Sat., 12/14, 12/21: 8:00AM-9:00AM
---
UPDATED 15U XPOSURE
BO DOME INFIELD REVIEW SESSIONS
Bo Jackson Dome - SOUTH INFIELD (17130 Prime Blvd., Lockport, IL 60441)
Sunday, 12/8 and 12/15
15U Red: 8:00AM - 9:00AM
15U Navy: 9:00AM - 10:00AM
15U White: 10:00AM - 11:00AM

---
FIRST BASE AND THIRD BASE CLINICS
Coach Higgens 3B and Coach Gurgone 1B
Bring your glove, a baseball, turf or gym shoes in baseball attire!
Bo Jackson Dome - Multipurpose Field (17130 Prime Blvd., Lockport, IL 60441)
See date and team shift below:
13U - All: Sat., 12/14, 12/21: 11:00AM - 12:00PM
15U-X/17U-X: Sat., 12/14, 12/21: 12:00PM - 1:00PM

---
UPDATED: INDOOR OUTFIELD CAMP AT ORLAND SPORTSPLEX
11351 W 159th St., Orland Park, IL 60467)
with Coach Jim Hall (IHSA HOF) and Issac Valdez (Olive Harvey Head Coach)
Sat., 12/14 and 12/21 on newly turfed field
10U/11U/12U: 6:30PM-7:30PM
ALL 13U/14U: 7:30PM-8:30PM
---
UPDATED: EARLY BIRD TEAM SESSIONS AT ORLAND SPORTSPLEX
(11351 W 159th St., Orland Park, IL 60467)
Sun., 12/15, 12/22 on newly turfed field
13U National (Side 1): 9:00AM-10:00AM
16U White (Side 2): 9:00AM-10:00AM
16U Navy (Side 2): 10:00AM-11:00AM
8U (Side 1): 10:00AM-11:00AM
---
EXTENDED EARLY TEAM ASSESSMENT AT ORLAND SPORTSPLEX
(11351 W 159th St., Orland Park, IL 60467)
with Isaac Valdez or Team Conducted without Isaac
Sun., 12/15, 12/22
13U Jr. Xposure/13U Black: 6:00PM-7:30PM
---
MOKENA CLUBHOUSE SPREADSHEET TO POST CAGE ASSIGNMENTS BELOW FOR SUNDAY!
8685 Springlake Drive, Mokena, IL 60448 - Do Not Park on the AT&T Side! Extra spots on back.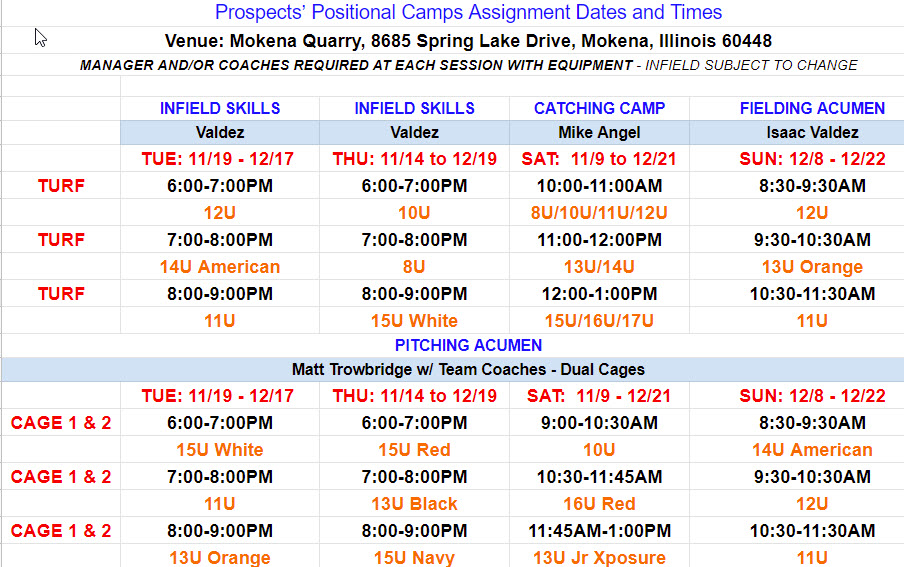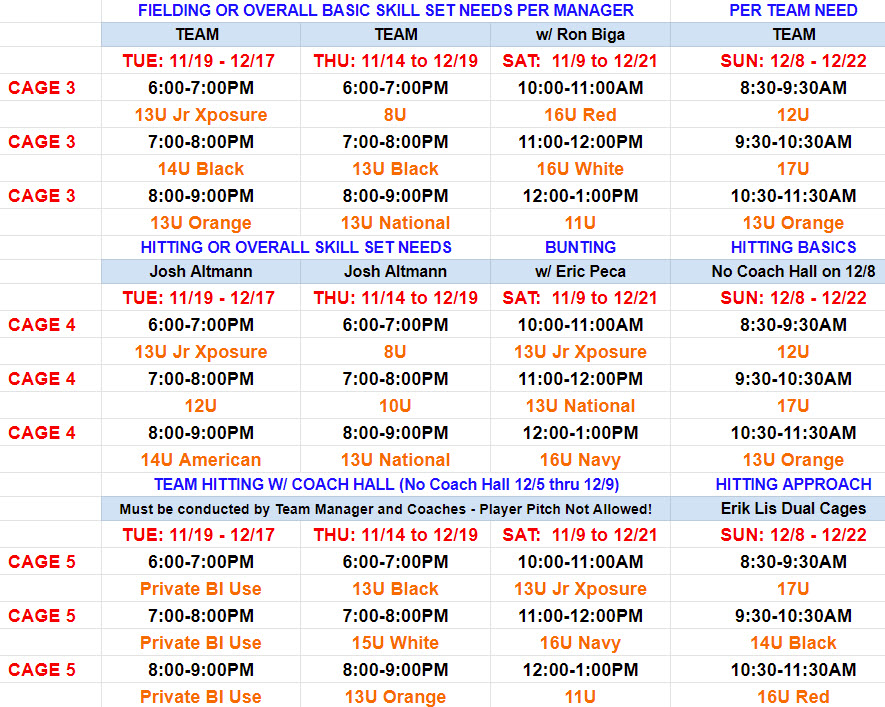 ---
PLAYERS OR COACHES CANNOT PARTICIPATE IN ANY EVENT WITHOUT TURNING IN
THE WAIVERS, PLAYER/PARENT AGREEMENT AND FEES DUE TO-DATE!

PAYMENTS: PLEASE TURN IN ALL PAYMENTS THAT WERE DUE BY 10/31/19.
WE HAVE SUBSTANTIAL EARLY BIRD TOURNEYS TO ENTER AND WE ARE TRYING TO
SET-UP EARLY UNIFORM SIZINGS AND CAPS SIZES FOR LATE NOVEMBER!
---
Announcement updates for Prospects Baseball:
1. Players should have fees thru October paid to manager (includes non-refundable commitment fee)
plus separate $99 flat fundraising fee.
2. Fees are to be updated thru 10/31/2019 to participate in any event. If not,
you're at will and not in compliance with attendance for any and all purposes.
3. Xposure players will be choosing showcases and camps at their discretion and expense.
We recommend the August, Fall and winter camps and several PBR camps
as well as camps hosted by the college you would like to attend.
---
OVERDUE! PLAYER DATA WAS DUE IN TEAM SNAP BY FRIDAY, SEPTEMBER 27, 2019, 8:00PM
Teams not 100% populated with this data by 11/25/19 will have delayed USSSA sanctioning and tourneys.
Please make sure the player name is spelled properly with the jersey #, DOB and complete street address so we can sanction teams as needed.
---
MANDATORY COACHES N.Y.S.C.A. CERTIFICATION IS REQUIRED BY ALL VOLUNTEERS OR YOU'RE AT-WILL
If this wasn't completed and turned in, you should not be coaching or helping in any capacity.
All coaches and adults assisting kids must be N.Y.S.C.A., $20 1-year or multi-year discounts with many perks!
Copy of your MBR card required.
Link to NYSCA Coaches Online Clinic
Click 'Get Started' at the link above.

Note, in Step 3, type in 'Character Nation' and choose "Character Nation (Lincoln Way Prospects) are the organization.
This is a very easy process. You must link to Character Nation or you will not show up in my report.
I recommend that you get the $35 two-year membership.

Note: This is also a NAYS Select Coach Advanced Training option with huge Membership Benefits.
New for 2019, Prospects Baseball will reimburse any coach $10 of your first year if you choose to be a NAYS Select Coach!
Link to Select Coach Clinic here and follow same instructions.

If you just need to renew your NYSCA membership, use this link: RENEW HERE

TRUE, TRADITIONAL TRAVEL BASEBALL PROGRAM!
Beyond the field of play
---
Sports Raffle
Live Drawing Conducted
11/17/2019
THANK YOU TO ALL!

Grand Prize:
Blackhawks Tickets
#1579 Flories

2nd Prize:
Auto Jackson Canvas
#2176 DeMuri
Call 708-209-9399 by 11/30/19

3rd Prize:
Auto Harold Baines Frame
#1980 Worobey

4th Prize:
Auto Fencik Jersey
#1685 LaMantia

5th Prize:
Toshiba 32" Fire TV
#4541 C. Anderson

6th Prize:
Auto Hoerner Bat
#3250 Swatkowski

7th Prize:
Auto Fuller 11x14
#2682 Bsiowik

8th Prize:
Auto Cooper 8x10
#5591 Tovar
Call 708-209-9399 by 11/30/19

9th Prize:
Cubs Replica Champ Ring
#2134 Staack

10th Prize:
Sox Replica Champ Ring
#3747 Thompson

11th Prize
Blackhawks Replica Champ Ring
#0375 Gillette

12th Prize
Bears Replica Champ Ring
#3539 Blake

13th Prize:
Auto Karkovice 8x10
#4497 Zlogar

14th Prize:
Auto Mike Squires
#4887 Lesak

15th Prize
Auto Molinaro 8x10
#0245 Nick H.
Call 708-209-9399 by 11/30/19
---

---
Mandatory Items
Team Issued Equipment Bag
Team Issued Attire
Protective Cup
Hydrating Beverage
Recommended Items
Mouthpiece
HeartGuard
Headgear Cap Inserts
© Copyright 2008-2020 Lincoln-Way Prospects Travel Baseball and Steven J. Korbel. All Rights Reserved.
The Prospects P logo with the grizzly bear is a registered trademark of Steven J. Korbel. Registration #111239
BEYOND THE FIELD OF PLAY is an Illinois registered service mark of Steven J. Korbel. Registration #105772
Lincoln-Way Prospects is an Illinois registered service mark of Steven J. Korbel. Registration #099357
Prospects Baseball is an Illinois (Reg. #111238) and Indiana registered service mark of Steven J. Korbel.
Xposure Baseball is an Illinois registered service mark of Steven J. Korbel. Registration #111257
lwprospects.com is an Illinois registered service mark of Steven J. KorbelRegistration #111237
prospectsbaseball.com is an Illinois registered service mark of Steven J. KorbelRegistration #111236
xposurebaseball.com is an Illinois registered service mark of Steven J. KorbelRegistration #111328
Lincoln-Way Prospects Travel Baseball has an expressed written agreement to use said service marks in 2008-2019.
All other trademarks used herein are the property of their respective owner.
We do not own our own facility, this keeps operating costs down without long-term commitments. We lease and rent.
We do not endorse any ad promo links. If your browser picks up key words, you must alter your browser/PC settings.
Licensed Material is used in our website. You are restricted on downloading the Licensed Material for other than personal use.
YOU ARE PROHIBITED from republishing, retransmitting, reproducing and any other use of the Licensed Material.

This was posted in June 2009 and revised on November 18, 2019:
For more information, E-mail: Coach Steve Korbel